Discover more from Marysville Sun
shining light on the city we love
I AM TELLING YOU THAT THERE IS A NEW ISSUE OF THE SUN AND IT REQUIRES YOUR ATTENTION.
☀️Making State Ave Great Again
by Maggie Rothenberger
Right next to our beloved 3rd Street, a new office has opened its doors. Vanderbeken Remodeling, a local remodeling company that does it all, from design to finishing, has moved into a storefront space on State Ave, and recently hosted an open house for clients, friends, and family to celebrate. The crowd enjoyed shrimp ceviche from El Rey right around the corner, drawings for gift cards from local businesses like 5 Rights, and some decor from Hilton Pharmacy.  
Ron and Jen Vanderbeken, owner and administrator of the company, have over forty years of experience in the construction industry and have received multiple awards for their exceptional work to build beautiful spaces. While working throughout Snohomish County, they particularly enjoy Marysville for the array of houses from the 60's, 70's, and 80's, which have great bones but need some aesthetic refreshing. Jen was kind enough to step out of the office to answer a few questions while taking a walk.
Jen said that they will be opening a small shop in the front of their new office called Curated Goods. The shop will feature small batch goods from local artists and business, which I know I will definitely be visiting. The Vanderbekens also love their neighboring businesses, visiting and supporting them when they can. 
I asked her if she could highlight one thing in particular she loves about Marysville, and she said when people hear they are from Marysville, less and less people now ask where that is! While it used to be a drive-through town, not very noticeable as people drove by on I-5, it becomes more and more of a destination, with increasing potential for residents to be employed in the same town they live in, instead of having to drive a considerable distance. Jen also pointed out the advantage of being a smaller town with a good and involved city council, saying it makes it harder for the city to lose the core of what makes it a great community.
If you've been living in your home long enough to know it could be serving you and your family better, or you're curious about the services the business offers, or you'd like to peruse the shop soon to be opened, visit the company's website or drop by the office. (And if you don't want to visit the office, why not support the local El Rey by picking up some of their shrimp ceviche, which Ron Vanderbeken heartily recommends?) After all, highlighting the lovely parts of the community, and continuing to  remodel and refresh local places is part of the crucial work of continuing to turn Marysville into a jealousable destination.
☀️Monkeypox Insanity
Monkeypox is a ridiculous name (not because it's racist regardless of what WHO suggests), though many of our leaders are working hard to be even more ridiculous in their responses to it.
Monkeypox is a virus that causes fever and lesions and sores and more, and there is growing certainty on how it is spread. Our governor claims that it affects some groups more than others, so he ordered the Department of Health to "conduct comprehensive public outreach and education within appropriate communities and communities disproportionately impacted by the virus" (The Olympian). No, really. Here's a screenshot from the article before it gets memory-holed:
That sounds bad. It is bad. Something is certainly at stake, but it's not what our governor thinks. Our collective sanity is at stake.
It turns out that the "communities disproportionately impacted" by this virus are not identified according age or ethnicity, the group is identified by its own choices. The group affected are not "victims" of this virus any more than other sexually transmitted diseases. Monkeypox is passed among active homosexuals.
As of today in Washington State there are a total of 333 known cases (and, of course, you may be forgiven for taking DOH numbers with a grain of suspicion). There are just over 14,000 total cases in the country (in a population of some 330 million). Amidst this clear reason to panic, The Everett Herald reported last week that the brains in the Snohomish County Health District are considering creating an entire new division dedicated to serving the monkeypox community.
"The Snohomish Health District will hire more staff — a nurse, a medical assistant and two disease intervention specialists — specifically to respond to monkeypox, as authorized by the district's board of health…" —Snohomish Health District hiring full-time monkeypox task force
The same article notes: "Gay and bisexual men have been at highest risk in the current outbreak. The virus is often spread through intimate contact." Yet the response has not been to tell homosexuals to abstain from homosexual activity.
Citizens, this is stupid.
If we must use the word "disproportionate," then it's true that a "disproportionate" percent of the population are in prison: those who break the law. A "disproportionate" group is monkeypoxed: those who violate nature. A "disproportionate" group attempt to make themselves the medical messiahs. Not even monkeys would imitate such insanity.
☀️Around Town and Around the Web
The Marysville Police Department published their annual report.
This is an exceptional three minutes on behalf of LIFE.
☀️Get Out There
The 5th Annual All Marysville Garage sale begins TODAY and goes through Sunday! (Thank you to William for commenting on last week's issue of the Sun to let us know about this event.)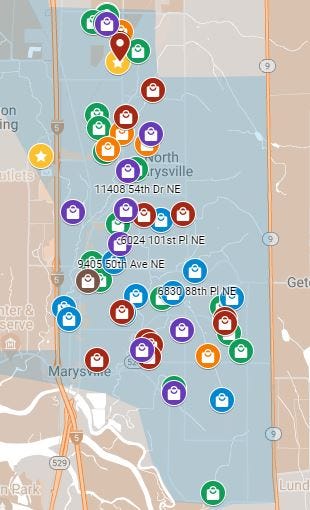 The 2022 Arlington SkyFest also starts TODAY - August 19-21.
The Marysville Brew & Cider Fest 2022, Saturday, September 10, at the Marysville Opera House. The Facebook event page is here, and you can purchase tickets here.
☀️Friday Fun
In the Pacific Northwest we take our coffee seriously.